SpyTech SpyAgent Review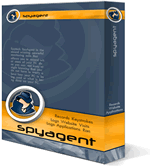 If you want to anonymously track the behaviors and activities of your spouse, your kids or your employees on the computer then SpyTech's SpyAgent is another good solution. This program comes jam-packed with features at an attractable price.
SpyAgent is more than just a keylogger or parental control program, it is a complete computer monitoring solution. You can even try it out before you buy by downloading the free trial version (see button on our sidebar).
Although it's not as easy to use as some of our higher rated programs, it is not lacking in monitoring capabilities. This terrific program can:
Log all websites visited
Log all keystrokes typed
Log all Online searches performed
Log all Chat and IM sessions
Log all programs used on a computer
Log all emails sent and received
Log all passwords and PIN codes typed
Log all files uploaded and downloaded!
Like other popular programs, SpyAgent can work in complete stealth mode meaning it won't be noticeable in any Windows program listings, add/remove programs, task bar, desktop or anywhere else someone might look. It also bypasses all spyware removal programs so it remains unnoticed.
It can be used for many purposes including spouse, child or employee monitoring, Internet and content filtering plus more. Click Here to Learn More About SpyTech's SpyAgent!