SniperSpy Remote Monitoring Review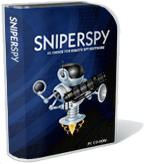 If you want to learn exactly what your teenager or employee is doing on your computer when you are away and you want to be able to find out in real-time from any location in the world, then SniperSpy Remote Monitoring Software is a good solution!
What separates this program away from others is the feature that allows it to be remotely deployed and installed on a computer even if you are not there! You simply send a module to the person using the computer (an employee or maybe your child) as an email attachment and the software will silently (and stealthly)  install itself.  The software can be attached to a Word document, zip file and other common files and the installation will be unknown to the user.
After the program is installed, you can log into the SniperSpy website and remotely view exactly what happens on the PC in real time! It's so easy to use that it's like watching television.
What are some of the features of SniperSpy?
You can set the program to take screenshots (pictures) of the active window as often as you want!
It can record all websites visited in popular web browsers such as Internet Explorer and Firefox.
It can log all keystrokes (including passwords and PIN codes) in nearly any language.
It can capture both sides of a conversation in chat and Instant Messenger (IM) sessions.
It records applications used on the computer (programs) including the date and time.
It offers a real time screen viewer (click here to see a sample) of what is happening on a computer at any given time.
It can bypass all firewalls to send the data
It can operate in stealth mode and not be recognized by spyware removal programs and antivirus software.
How Difficult it SniperSpy to Use?
It is actually very easy to use this program. It may sound complicated, but in reality it is quite simple to implement and use. You simply buy the software, log into the website and create the module (this is done for you by the software), send it in an email to the computer you intend to monitor and then log into the website to view the data.
What are some Common Uses of SniperSpy Software?
Family Computer Monitoring – if you want to monitor what your children or spouse do on the computer when you are not around, this software is the answer. It works in stealth mode and silently records all computer and Internet activity and conveniently uploads it to a website where you can access the data in real time, anywhere worldwide!
MySpace or Facebook Monitoring – Today's teenagers spend countless hours on social networking sites communicating with friends and family. Sometimes kids get into drugs, sex and pornography through these sites or they become targets of pedophiles. You can use SniperSpy to monitor everything they do on these sites to protect them!
Employee Monitoring – If you think your employees are using their computers inappopriately or to do things not related to their jobs, you can use this software to monitor them and ensure they are following company guidelines.
Catch a Cheater – If you suspect your spouse, girlfriend or boyfriend is using your computer to conduct their affair or to surf for pornography, you can catch them in the act with this software!
Will Computer Users Know the Software is Running?
SniperSpy works in complete stealth mode. It will not be seen in your programs listings, your add/remove programs, your task bar or your desktop.
Can SniperSpy be installed from a CD or floppy disk?
Yes. You can certainly install it from a CD, flash drive, zip disk or any other portable media.