IamBigBrother Review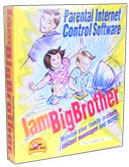 If you are looking for the cheapest solution for monitoring and filtering the content your child access online, then IamBigBrother can be a solution.
It is relatively easy to install and setup, but not nearly as feature-rich or effective in its use and operation as other products on the market today. In reality, the development of this product and the support are just not what we expect.
Originally, this product was a decent choice. Nowadays, it is mostly being sold to other software developers as a resale product which means the company is more about making money than actually providing a legitimate top-notch product for parents.
According to its website, IamBigBrother monitors all websites, emails, chat sessions, Instant messages and more. We have not found it always effective at catching all activity. It is also not that stealth in its operation. Many computer savvy teens can easily avoid its detection.
If you want a better solution, we recommend you checkout our top rated programs like WebWatcher or Spector Pro. These programs will cost you more, but are well worth the extra cost. You will have peace of mind, good product support and an excellent monitoring solution.