eBlaster Monitoring Software Review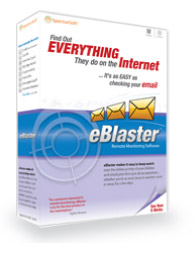 If you want to see everything your children or employees are doing on their computer from anywhere in the world, then eBlaster Computer Monitoring is for you! This phenomenal software allows you to install, walk away and get your monitoring updates by email when you want them.
eBlaster allows you to see everything – including websites visited, emails sent and received, instant messages, chat sessions, MySpace and Facebook activity plus much more – all conveniently sent to your email in near real-time.
eBlaster is a preferred solution to many parents and business owners because you do not have to access the original computer after you have installed the software. You simply walk away and receive all the data by email either as it happens or at an interval you determine.
This software is great for anyone wanting to:
See every website visited and keyword typed into search engines
Read every email sent and received from PC email clients like Outlook or Outlook Express or from webmail clients like Hotmail, Gmail, AOL, MSN, Yahoo Mail and others.
See the entire conversation of all chat sessions and Instant Messaging (IM) sessions.
Read all keystrokes typed on a computer (including hidden text like passwords and PIN codes).
See every file (video, audio or other) uploaded or downloaded.
See all activity (including messages) on sites like MySpace and Facebook.
See all documents created (MS Word, Excel, etc.) and see activity in other programs.
Plus much more!
In the next few sections, we will dive into some of the more popular features of eBlaster and show you screenshots of the emails you received. Let's get started!
See All the Websites Visited with eBlaster!
With eBlaster, you will get a listing by email of all websites visited along with the link (so you can check it out) and the date and time it was visited. You can click here to see a sample of what you can expect to receive.
Read All Emails Sent and Received with eBlaster!
If you choose, you can receive an Instant Notification email each time an email is read or sent on the computer you are monitoring. You can also choose to have this sent to you in a daily, hourly or some other interval report. Click here to see a sample of the type of report you will receive with email monitoring.
See Both Sides of All Chat and IM Sessions with eBlaster!
Whenever chat sessions or Instant messaging sessions occur, eBlaster will record them and send the data to you in an email when you want to receive it. You will get the entire conversation…not just what was typed on the computer you are monitoring. This is powerful stuff! See an example by clicking here.
See Every Keystroke Typed on the PC with eBlaster
Not only does eBlaster record every keystroke typed on the computer, but it also logs the time, date and program the keystroke was associated with. It records every type of keystroke too – including "hidden" ones like passwords and PIN codes. Click here to see a keystroke sample report.
See All Files Uploaded and Downloaded with eBlaster!
If you are concerned about illegal software or unauthorized downloads to a computer or maybe you want to see what photos and videos your child or someone else is uploading to the Web, eBlaster can give you the answers. Click here to see a sample of the report you will receive by email.
Get Detailed Reports on MySpace Activites with eBlaster!
If you are concerned with what your children are doing on MySpace, then you need to checkout eBlaster's MySpace reports. It will send you an email with everything they do on MySpace including messages sent and received, profiles, comments, pictures and more. Click here to see a sample report.
See Exactly What They Are Searching for on Google!
You can see the exact search terms used on search engines like Google, Yahoo, MSN and others plus get the date and time they did their searching. Click here to see a sample report.
See The Documents and Programs They are Using on the Computer!
Check and see if your kids are really doing their homework. eBlaster will send you a report of exactly what programs were used and for how long. Cross check it against what they were supposed to be doing. Click here for a sample.